DISCLAIMERS
CUSTOMIZED PRODUCTS: The owner of this website, Latter Day Brands, reserves the right to accept or reject any customized products at their discretion. Customized products that contain a combination of text or graphics that reference or relate to the Church of Jesus Christ of Latter Day Saints that contradict the teachings of the Church of Jesus Christ of Latter Day Saints will be immediately be canceled and your purchase will be refunded. Products that are offensive, explicit or pornographic will automatically be canceled and your purchase will be refunded.
COLOR: There may be a slight differences between SCREEN COLOR and PRINT COLOR. Shading tends to print darker. Photographs with darker hughes always print darker. You may be contacted by us if we think there will be significant issues with your design.
SPELLING: CHECK YOUR SPELLING, TWICE. Latter Day Brands is not responsible for any spelling errors made by customers on customized products.
CUSTOMIZED PRODUCTS ARE NON-RETURNABLE UNLESS DEFECTIVE.
Feel free to EMAIL or CALL us if you have questions.
Step #1 - Click on CREATE, or mouse over CREATE and click on the type of product you are interested in.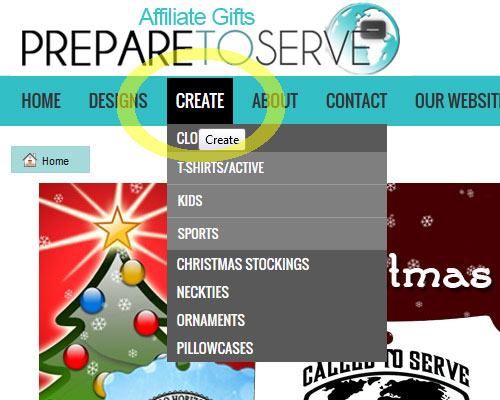 Step #2 - Click on the product you desire to customize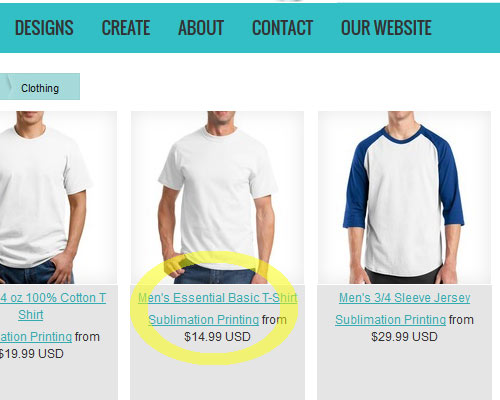 Step #3 - The product will open up in a new screen. Click on DECORATE NOW. NOTE: Below the DECORATE NOW button you can select the size you desire.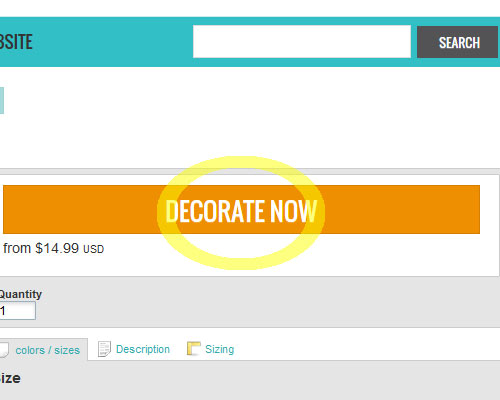 Step #4 - Click on ADD A DESIGN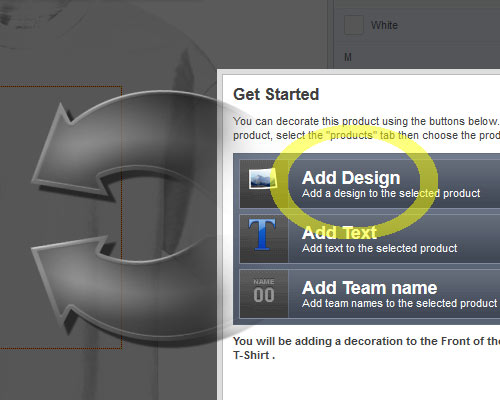 Step #5 - You can search by name or look through the stock images to find the graphic you want on your product. All of the LDS Mission designs are listed under heading LDS Mission Designs (as seen below) followed by a style name.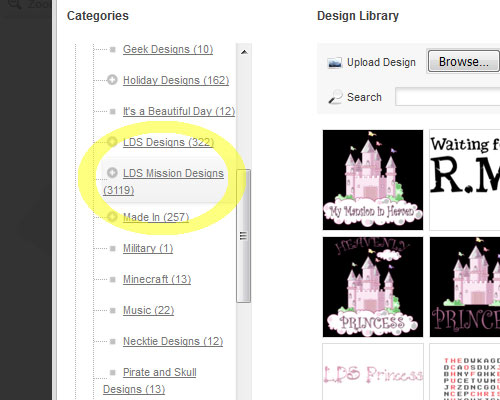 Step #6 - Is an example of searching for an image using a name. You also have the option right above the search box to upload your own image or photograph. NOTE: There may be color / print variations on photographs uploaded. We will do our best to adjust photos as necessary.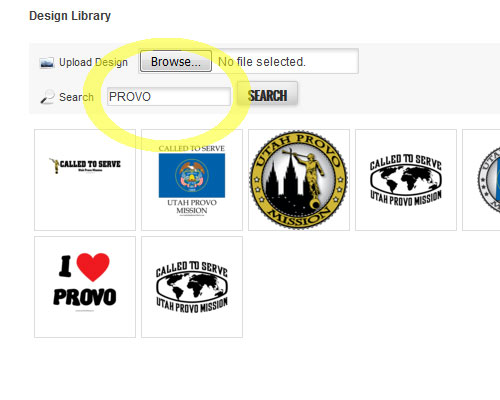 Step #7 - When you click on the image you want, a box will appear showing you a slightly larger thumbnail. Click on SELECT IMAGE to lay it on top of your product.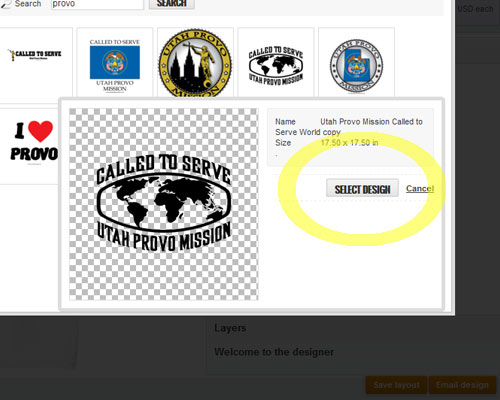 Step #8 - Once your graphic is on your product, you can click on ADD TEXT to personalize it with a name or something else.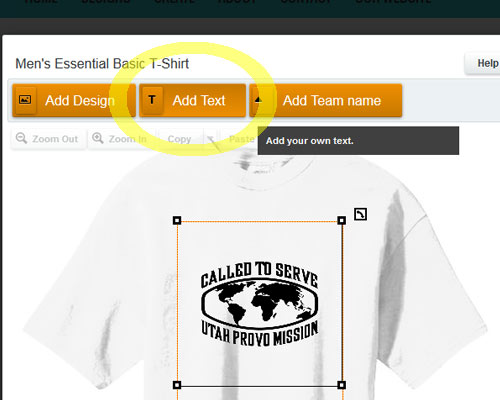 Step #9 - Occasionally you will be prompted to add something that is "DIGITAL" or "SUBLIMATION". Just pick the option that is available. We will use the appropriate method for the product you chose.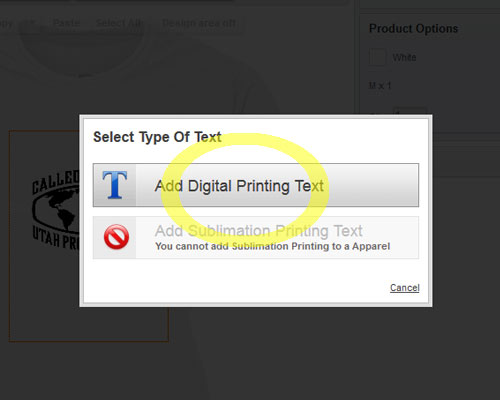 Step #10 - Type in the TEXT you want to personalize your product with.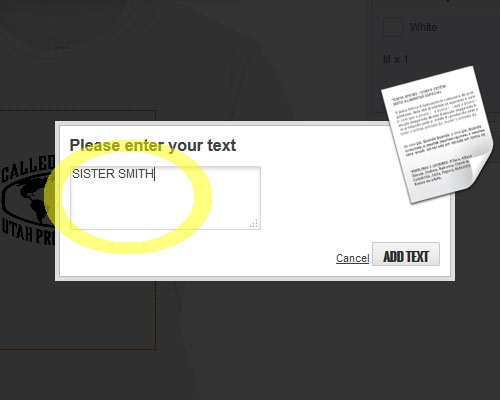 Step #11 - Edit your text. Change the alignment, color, size, move it up or down, as well as effects.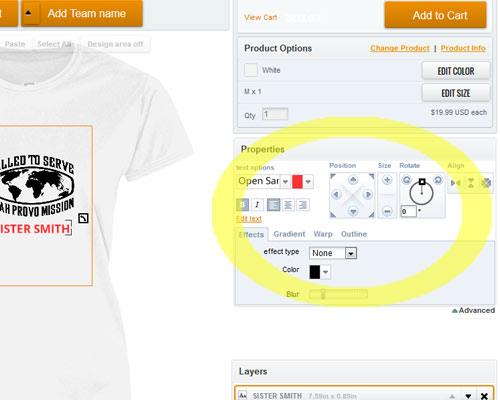 Step #12 - When you are done editing your product, click on Add to Cart. NOTE: You can also change the SIZE selected below the ADD TO CART button.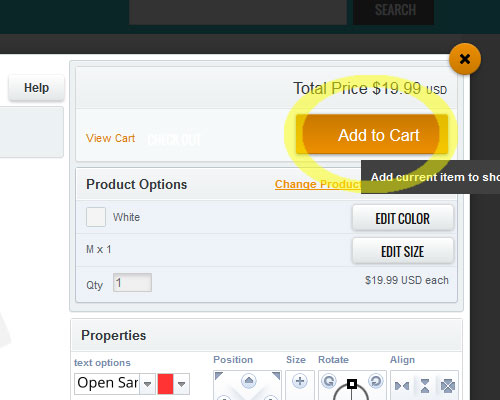 Step #13 - A box will open up allowing you to design another product, or CHECK OUT.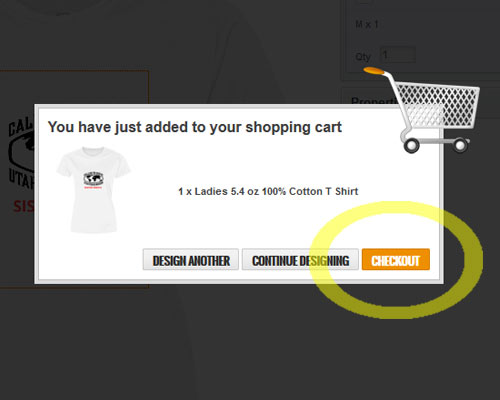 Step #14 - Confirm the products in your basket and CHECK OUT. You will be taken through a typical checkout process.